Meet the Artist: Bonnie Knapp
Horse Hair Raku Pottery and Jewelry

New to the Artisan Market in 2022, Bonnie Knapp, specializes in Raku pottery and utilizes a special technique to create Horse Hair pottery, using actual horse hair to produce fine dark lines on her pieces. Look for both pottery vessels and pendant necklaces at the market - both make a wonderful gift!

Artist's Statement:
"When I was a child, I watched a potter throw a pot on his wheel. I knew immediately: This is what I want to do. Today, experiencing the calming rhythm of the turning wheel, the feel of a lump of clay and the creation of beauty out of clay....What could be better?

I love the challenge of stretching my boundaries working with clay, creating something new and testing alternative firing methods. When I make a piece of pottery, I look at it, feel it, use it, then imagine how I can make it better. How can I make it function better as a work of art?"
- Bonnie Knapp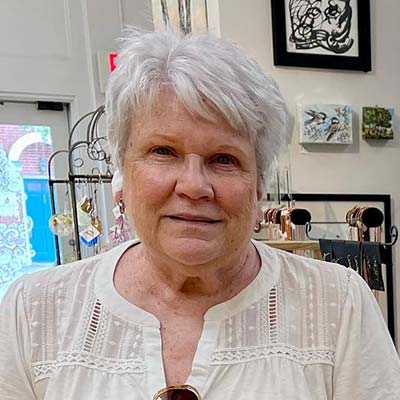 Horse Hair Pottery:
Special Raku clay is used for Horse Hair firing because the clay must be capable of withstanding thermal shock. The pottery piece is formed and dried to a leather hard stage. The surface is then hand-burnished to a soft sheen. After drying, the pottery is bisque fired. The piece is then fired in a raku kiln to approximately 1,200 degrees Farenheit. It is immediately removed from the kiln while still glowing, placed on a non-flammable surface, and horse hair is applied to the surface of the pot. As the horse hair sears onto the pots surface, it leaves localized carbon markings which give the pot a distinctive trail of black lines. After the pot cools, the surface is cleaned with a damp cloth, and then waxed and buffed to protect the surface.

Horse hair pottery is for decorative use only. It is not food safe and is liquid permeable.