Big Dreams and Small Beginnings
Design Quest opens in October, 1972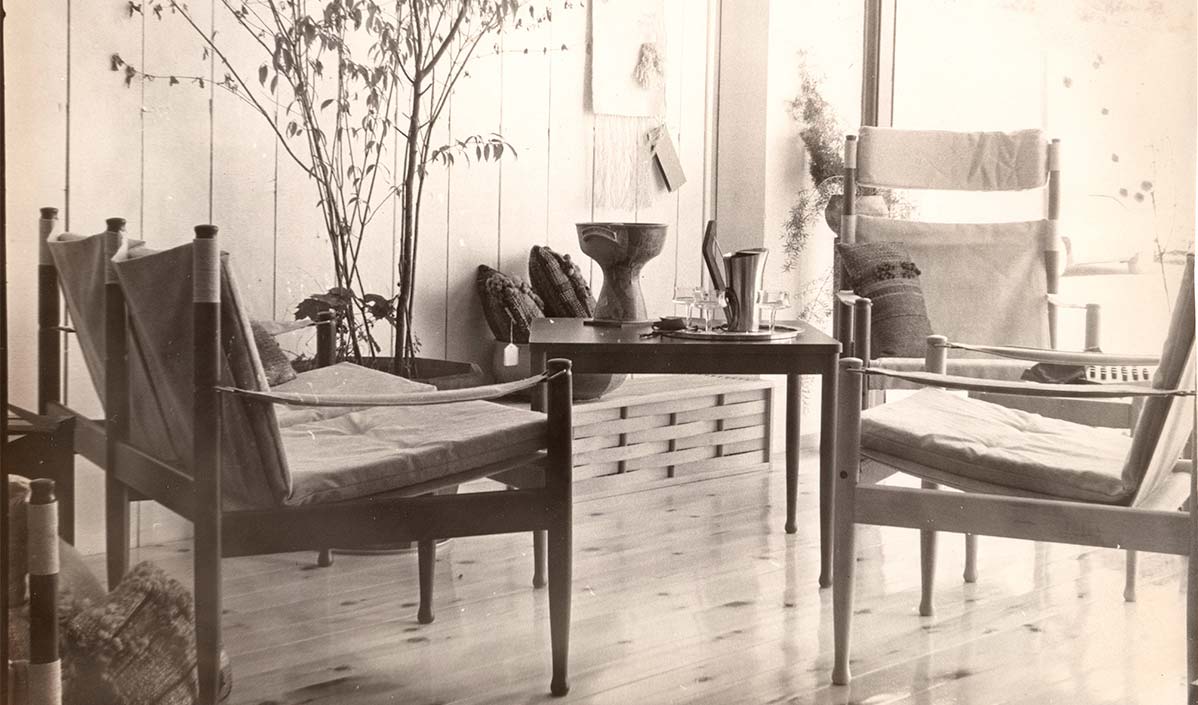 In 1971, two teachers from a unique boarding high school, located near Sedona, AZ, had a desire for a career change. For 8 years, Meg and Jorgen Sorensen had taught and lived at Verde Valley High School, one of the nation's first boarding schools dedicated to the adventure of an experiential and intercultural education. Starting out as instructors of Sophomore English (Jorgen) and Spanish Literature (Meg), Jorgen's position had evolved to encompass teaching ceramics, kiln building, and glassblowing. He had even directed a student project: building a Paolo Soleri "Silt Pile" house that is still used today as a residence on the Verde Valley campus. However, with three children to raise and an evolving direction for Verde Valley HS, the time was right to explore other opportunities.
Jorgen, who had a great passion for film and a half-written script, wrote to the movie-star Jack Lemmon, father of a former student, enquiring about opportunities in Hollywood. Mr. Lemmon wrote back, saying that it all sounded like a very good idea but it was a terrible time to start a career in the film industry.
So Jorgen turned to his second choice, opening a retail store featuring Scandinavian Design. During his youth, Jorgen had completed some studies in the great tradition of Danish cabinet making and he also had an avid interest in the architecture and design of the now-famous mid-century masters. He contacted the owner of a Danish furniture store in Phoenix, AZ, asking the owner for tips and information about how to set himself up with his own business. He was told it was a very bad idea and a very bad time to sell Danish furniture and oh...by the way...would you like a job?
Meg then sat down and wrote letters. It was 1971 and there was no internet or quick email correspondence to be found. She wrote to all the Scandinavian consulates, seeking contact information for all the furniture and accessory manufacturers they hoped to sell. While all the consulates replied with helpful information, it was the Danish Consulate of Chicago that replied with some additional, and very insightful, information...
Why Grand Rapids?
The Danish Consulate had just completed a study to discover the best cities in which to sell Danish Furniture in the United States. At that time, Meg and Jorgen had no fixed plan on where to open their dream store but when they saw Grand Rapids, MI listed high on the report, they hoped they had found their new home. Meg immediately contacted her brother, Joe Grassie, who at that time held the position of Grand Rapids City Manager, and a visit was arranged. During a horrible blizzard in February 1972, Meg and Jorgen visited Grand Rapids for the first time and Joe and his wife, Josette, arranged meetings with local interior designers. The designers all told Meg and Jorgen that it was a very bad idea to try to sell Danish Furniture in Grand Rapids - it had been done and failed back in the 1950s. Joe and Josette, disagreed. They felt Grand Rapids was more than ready to embrace Scandinavian design and encouraged Meg and Jorgen to proceed with their plans.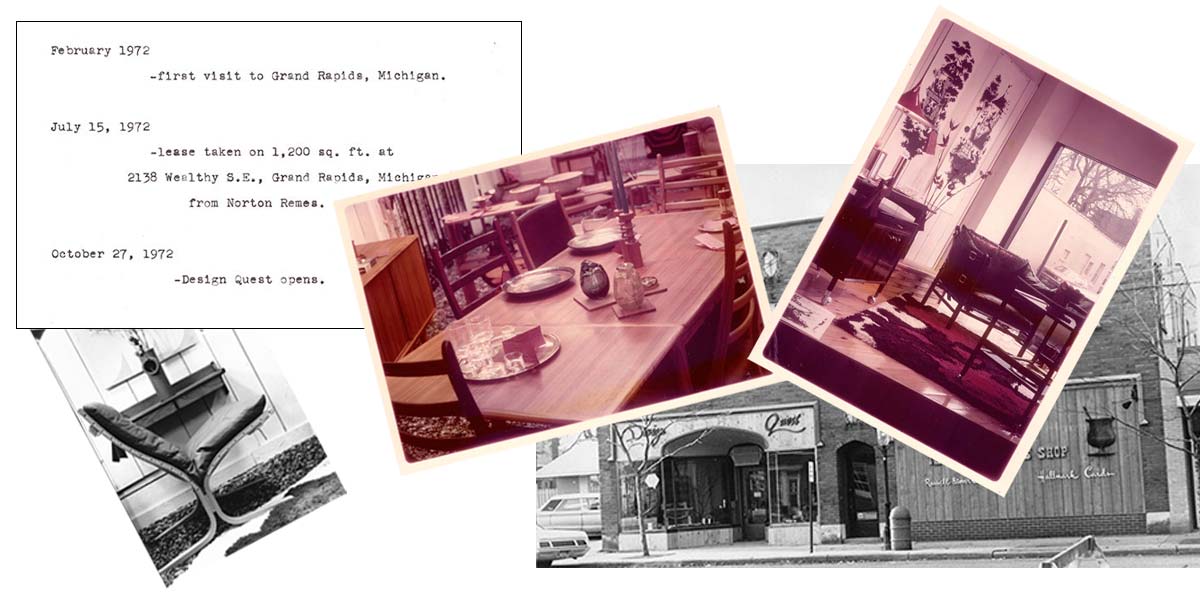 A Quiet Beginning
In spite of a lack of encouragement, Design Quest opened the doors to their first showroom in Gaslight Village, East Grand Rapids, in October, 1972. Although only 1200 sq ft, the space was open and light and full of grand designs from famous architects, artists, and designers such as Hans Wegner, Arne Jacobsen, Fritz Hansen, Bjorn Wiinblads, and more. With a love of hand-crafted textiles and sculptural ceramic and glass, Meg supplemented the Scandinavian-themed showroom with pieces from local artisans.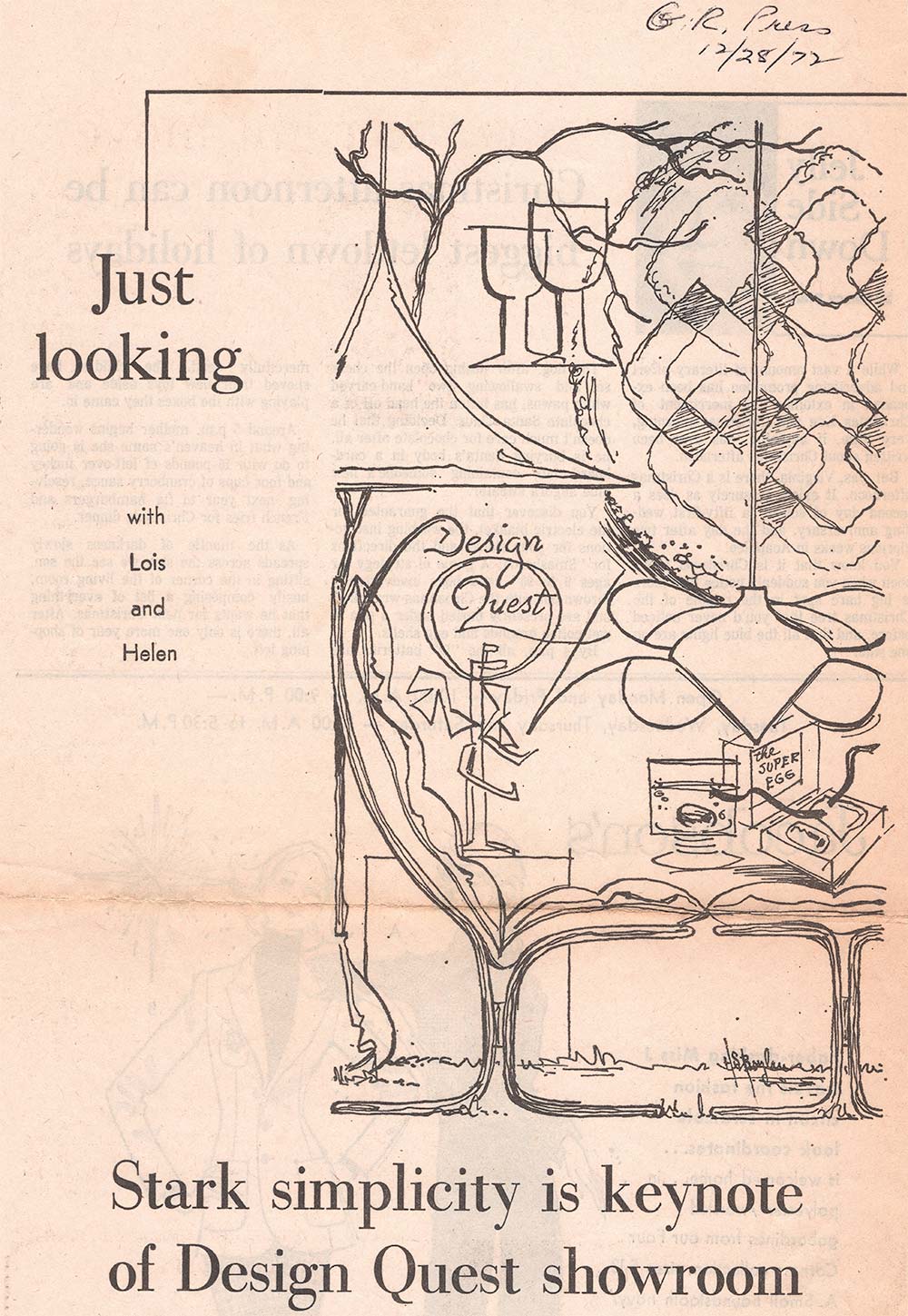 Excerpt from Grand Rapids Press, Dec 1972
"Passers-by are intrigued by the windows in the new Design Quest, 2138 Wealthy St SE. They have an air of the Museum of Modern Art about them.
Starkly simple, groupings include handsome modern furniture pieces, handwoven rugs, glassware, perhaps a pepper mill or wooden game, so well designed it could also be a room accessory.
Inside the shop, displays invite visitors to admire the best of Danish modern cabinet making, to touch the smooth natural oil finish of teak and gleaming rosewood.
Swedish and Danish Crystal sparkles in the reflection of Swedish contemporary lamps and hanging lighting fixtures."
Intriguing Designs and Early Press
In the current Design Quest staff lunchroom, one can find shelves of scrapbooks containing photos, newspaper clippings and reviews, and local ads, carefully collected by Meg over the years. The earliest binder, labeled 1972-73, contains a handful of photos of the first showroom, in black and white and fading colors. It also contains clippings of the store's very first ads and brochures, created completely by Jorgen with handwritten calligraphy and photos. Later ads feature line-drawings by local illustrator, Sandy Ringlever (Professor of Illustration Emeritus, KCAD). Nowadays, the shapes in these illustrations are iconic and easily recognizable. Table settings from Stelton, lighting from Louis Poulsen, and glassware from Iittala and Holmegaard need no more than a black drawn silhouette to be identified. Before 1972, a buyer had to travel to Chicago to view and purchase these Scandinavian designs. Grand Rapids was more than ready and eager to jump into mid-century Scandinavian Design.
Never out of style
Take a look at how these great designs have "aged." In 1973, a Design Quest ad featured the Eilersen Low-Back Safari Chair priced at $51.50 in canvas and beech. Nowadays you can find "gently-used" vintage versions of these chairs reselling online from $1000 (canvas and beech) up to $6000 (leather and rosewood).
A second ad shows distinctive silhouettes of the Swan Chair (design by Arne Jacobsen for Fritz Hansen) and the Corona Chair (design by Poul M. Volther for Erik Jorgensen). You might also recognize a Stelton Coffee Pot and a Lily Armchair, both by Arne Jacobsen. A small wooden game, designed by Piet Hein, can still be found in the current Design Quest showroom as a "prop" accessory (not for sale). A quick internet search will show you how well these designs have held up in value and desirability. Most are still in production; all are highly collectible.