Olander Earthworks
Pause, Play, Relax.
A year-round favorite in our gift shop, Design Quest is proud to feature Olander Earthworks during our 2020 Holiday Market. With additional inventory and new designs, you can be sure to find the perfect gift!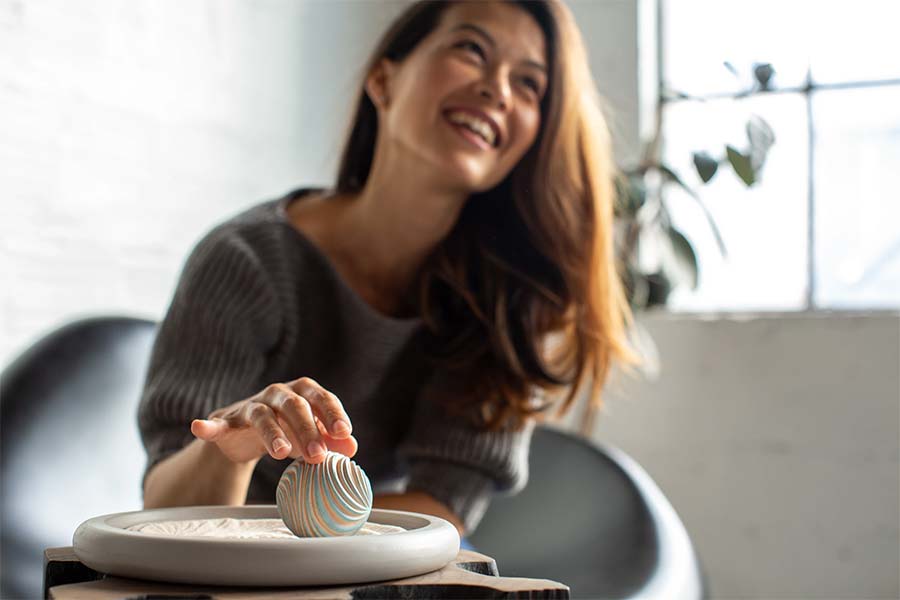 Believe in the power of creativity to engage the senses, bringing moments of wonder, play and wellness to everyday life.
Whether you're aiming to calm your desktop environment or searching for unique play therapy tools, these textured sensory sand spheres are an inviting way to explore your creativity. This interactive stress relief activity is the perfect break time self care exercise to ease your mind. Mix and match to build your own one-of-a-kind set.

Art meets therapy in a beautiful, multi-sensory way as you stamp and roll spheres to create mesmerizing patterns in the sand. Our concrete sand sphere collection offers a playful twist on the traditional mini zen garden.
Each sphere is hand cast in concrete and pigmented by a small team of talented artists. Expect each piece to have unique characteristics in surface color and saturation that may differ slightly from the images you see here. On close inspection, you will find parting lines from the mold seams, a small sanded area where the kiln support spur once was, and small surface bubbles inherent to concrete. These minor surface interruptions do not affect the texture transfer nor the solidity/integrity of the form. We take delight in the subtle variations resulting from each reproduction. There's a Wabi Sabi, perfectly imperfect nature to these hand carved and hand processed objects.
Meet the artists behind Olander Earthworks
Founded in 2008, Olander Earthworks is a family-owned studio of artists who are dedicated to bringing creativity to their community with interactive, customizable, multi-sensory art. Based in Portland, Oregon, Olander Earthworks is proud to be an active part of the local art community and bring well-being, play, and creativity to all.